AnyRoR Gujarat 7/12 Online: AnyROR Gujarat is an online land record system developed by the National Informatics Center (NIC) in association with the Revenue Department of Gujarat to make land records available online. In this step-by-step guide, know how you can find the land records of 7/12 Utara Gujarat online. read this complete article so that you can know very well how to find 7/12 land records online.
AnyRoR Gujarat 7/12 Utara Online Land Records
The Gujarat government launched a portal through which anyone can get access to land record information online. With the help of this "AnyRoR Gujarat" portal, you can access information on a piece of land within the state, thus avoiding the hassle of visiting government offices.
To get the information of Anyror Gujarat 7/12 Utara or online Gujarat 7 12, the citizens of the state had to make rounds in the tehsil or government office, But with the help of anyror.gujarat.gov.in portal, citizens of the state can check Gujarat Land Records from their laptops, mobile or computer sitting at home.
What is AnyRoR Gujarat Portal?
AnyROR is an official website to check land records in Gujarat online, launched by the Revenue Department of Gujarat on E-Dhara. The full form of AnyROR is 'Any Records of Rights Anywhere in Gujarat'. You can check Gujarat Land Records 7/12 (Satbara Utara) and 8A at https://anyror.gujarat.gov.in/.
This portal covers 225 talukas and 26 districts of Gujarat state. This portal provides online government verified VF7, VF 8A, VF 6, and VF 12 Land records.
Various services are available on this online portal for the citizens of urban and rural areas of the state and all the services are free of cost. The list of all the services available on anyror Gujarat portal has been provided further in this article, the process of how you can take advantage of the services available on this portal has also been provided further
Also read: EWS Certificate Gujarat Pdf Form Download
How to Check AnyRoR Gujarat 7/12 Utara online
You can also view the 7/12 document in Gujarat for verifying the details. Follow the process below to view your 7/12 Utara Gujarat document. Here is the step-by-step guide to check 7/12 Utara Gujarat online print.
Step-1: Go to the anyror.gujarat.gov.in official website.
Step-2: You will see three options- Rural land records, Urban land records, and property search. Click on the "VIEW LAND RECORD – RURAL"


Step-3: Select one option as per your search criteria and fill all the required details, including taluka, district, survey number, and village.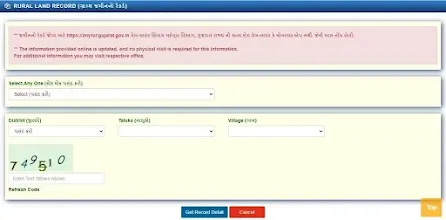 Step-4: Enter the captcha code and click on the 'Get Record details' button to view land records.
About AnyRoR Mobile Application for 7 12 Gujarat Online
If you search AnyRoR Gujarat application on the google play store then you will get to see many results. But it has been informed on the official website that there is no application of Anyror Gujarat and there is no other website.


The app you will find on the Google Play Store may be fake or may have been created by a third party. In which you will have Advertisement show again and again. So, the best place to access land record information is the official AnyROR website.
Services Available at Anyror Gujarat
135-D Notice For Mutation
Entry List By Month-Year
Integrated Survey No Details
Know Khata By Owner Name
Know Survey No. By Owner Name
New Survey No From Old For Promulgated Village
Nondh No. Details
Old Scanned VF-6 Entry Details
Old Scanned VF-7/12 Details
Revenue Case Details
VF-6 Entry Details
VF-7 Survey No Details
VF-8A Khata Details
Also read: Mukhyamantri Kisan Sahay Yojana Gujarat
Benefits of Anyror Gujarat 7/12
All land-related information and services are available on AnyRor Gujarat portal.
Land information of entire citizens of rural and urban areas is available on this portal.
You can esaly download 7/12 utara online.
The application is free of cost and consumes less time to check records.
Conclusion
So friends, now you must have come to know that Anyror Gujarat 7/12 can be taken out from Anyror portal. You must have got all the information about the Revenue Department Gujarat 7 12. If you like this information, then definitely share it with your friends. If you have any suggestions or any questions related to 7 12 Utara Gujarat, then definitely comment us.